 You take yourself everywhere you go. You can never get away from yourself or your thoughts.
Understanding and getting along with yourself is vital before we can get along with others.
With our one-on-one Bravery coaching, develop your awareness and relationship with yourself like a superpower.
Build your being human skills to demand more of your own self-leadership to make a positive impact on the world.
We coach people from Scotland, across the UK to the USA.
We offer a FREE sample of coaching so you can try it and see if it feels right for you.
Masterclasses
&
Facilitation Our Masterclasses and facilitation support to achieve braver goals and invest in your bravery culture – as a group or team to support your greater wellness, resilience and leadership.
Our Masterclasses explore, discover and practice being human qualities to support braver:
B- Behaviour
R- Resilience + Relationships
A- Awareness + Attitudes
V- Values
E- Empathy + Emotions + Environment
What People Are Saying
"I found the sessions enlightening, not just about myself but others. It was such a relief to know I wasn't alone and that others were struggling daily and finding things tough. The discussions allowed me to work out braver ways to deal with my anxieties. I learned a lot about myself…and I am brave!"
Brave Your Day participant, New York City
Read testimony blog from a recent event with Glasgow University PhD Law students –How to Build Your Bravery Muscles
" I've been to lots of workshops that tell you what to do like a car bumper sticker. We live in times when it's all about instant gratification! This was refreshing being able to power up myself, and create my personal strategy myself . It means I'll commit to it too. It's true we take ourselves everywhere we go so who we are being is our superpower! Love it!"
Brave Your Day participant, London
" I have learned so many ways to build my bravery muscles and reduce my stress to manage myself better"
Brave Your Day participant, Scotland

Brave Your Day International
Everything we do is under the umbrella of our International Bravery Network
In 2019 we will be launching an International Bravery Network to support braver self-leadership.
We will host gatherings to create safe spaces where we can share , tell stories, learn, connect and build personal bravery skills to support our own wellness, resilience, and confidence to make a positive impact in the world. 
                                                                       Our dedication is bravery NOT fear as a positive contagion in uncertain times.  
                 Click button below to subscribe free to join our network and keep up to date with bravery events and opportunites. International stories of everyday bravery wrapped up in our 100 page print publication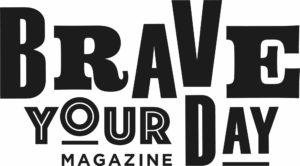 Check out publication